ASUS GeForce GTX TITAN GPU
- The world's fastest graphics card and based on supercomputer-grade NVIDIA® Tesla K20X architecture. The new card delivers the world's most powerful single-GPU performance to PC gamers and multimedia enthusiasts. It is optimized for DirectX® 11.1 and PCI Express 3.0, with a GPU clock of 876MHz achieved by use of NVIDIA® GPU Boost 2.0 technology. The ASUS GeForce® GTX Titan offers 6GB of GDDR5 video memory clocked at 6000MHz.
Bundle with ASUS GPU Tweak Software
- GPU Tweak utility helps you modify and tune clocks (including new boost clock settings), power consumption targets, voltages, and fan performance via an intuitive interface
SPECIFICATIONS
Model name
: GTXTITAN-6GD5
Graphics engine
: GeForce® GTX Titan
CUDA cores
: 2688
Bus standard
: PCI Express 3.0
OpenGL
: 4.3
Video memory
: 6GB GDDR5
GPU boost clock
: 876MHz
GPU base clock
: 837MHz
Memory clock
: 6000MHz (1500MHz GDDR5)
Memory interface
: 384-bit
Outputs
: 1 x dual-link DVI-I
1 x dual-link DVI-D
1 x HDMI
1 x DisplayPort
HDCP compliant
Dimensions
: 10.5-inch x 4.38-inch x 1.5-inch
Testing System
:
Intel Core i7 3770k
Gigabyte Z77X-UD3H
Samsung 1600mhz Low Profile
Hynix 128SSD Raid 0
Steventeam 1400W Gold
-------------------------------------------------------------------------
Asus GeForce GTX Titan Box!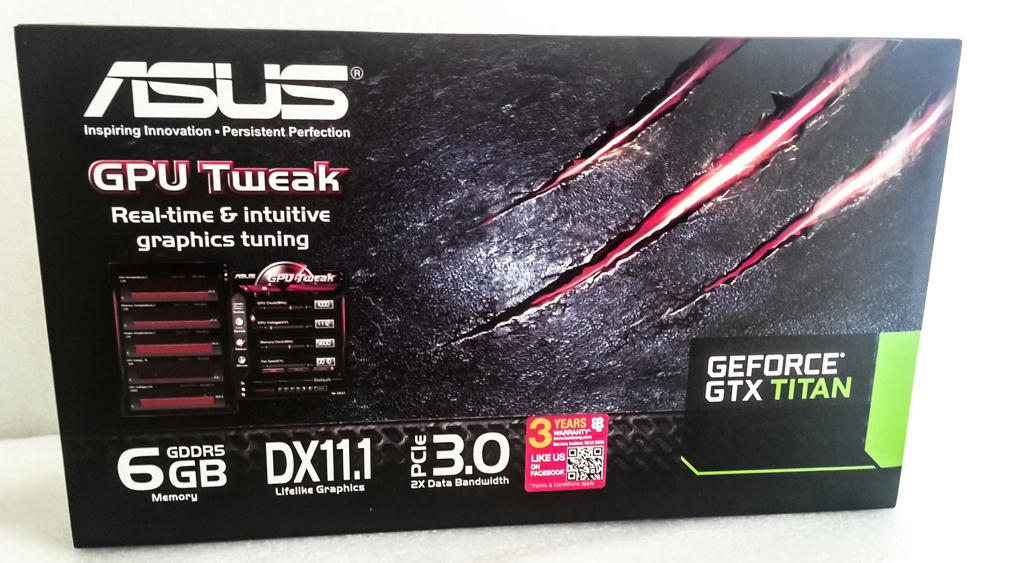 Side view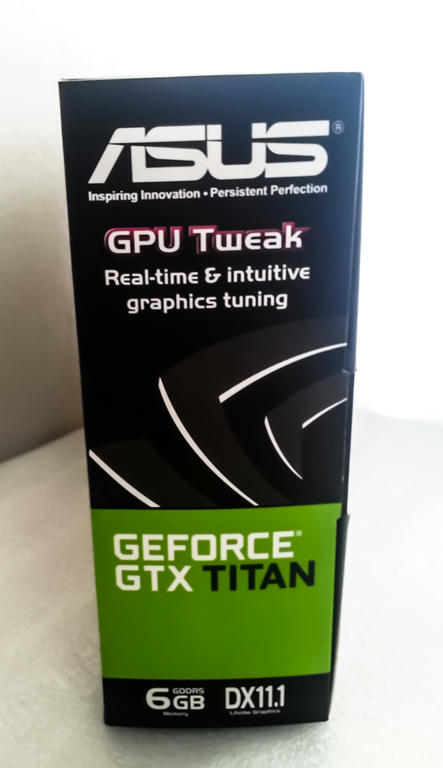 Back view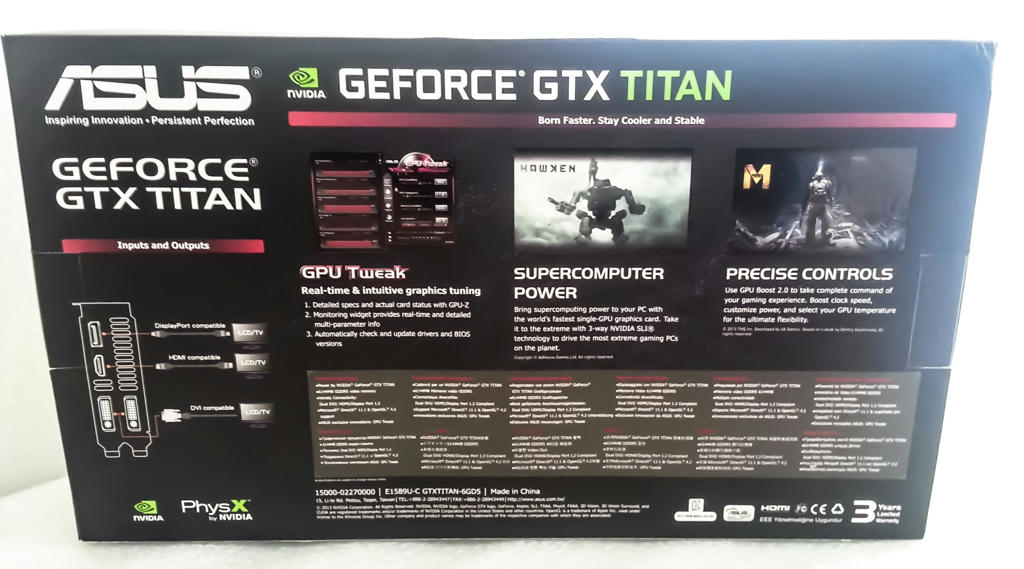 Black Box removed from the packaging box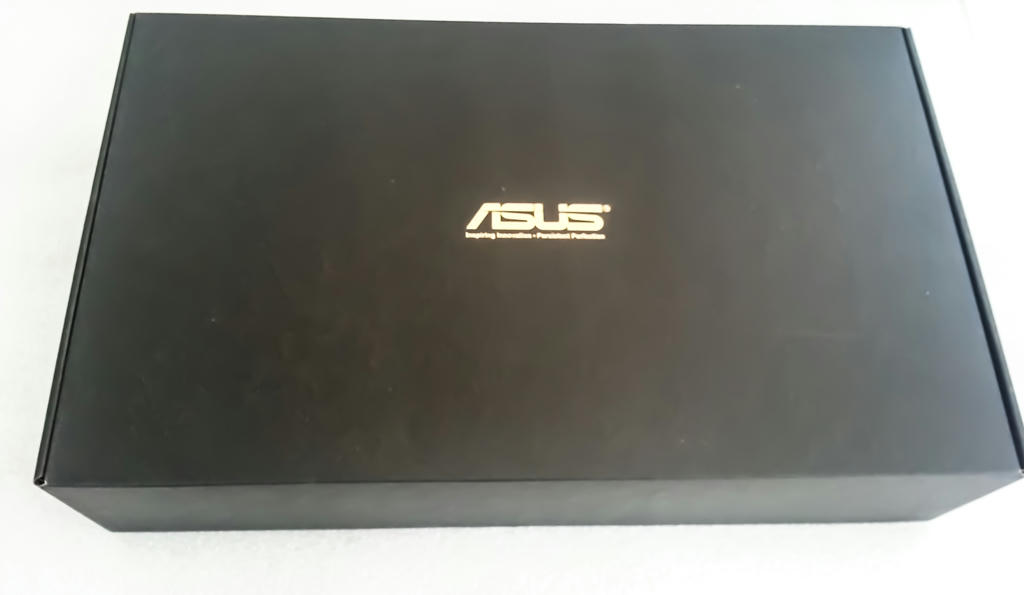 Small black box of Accessory package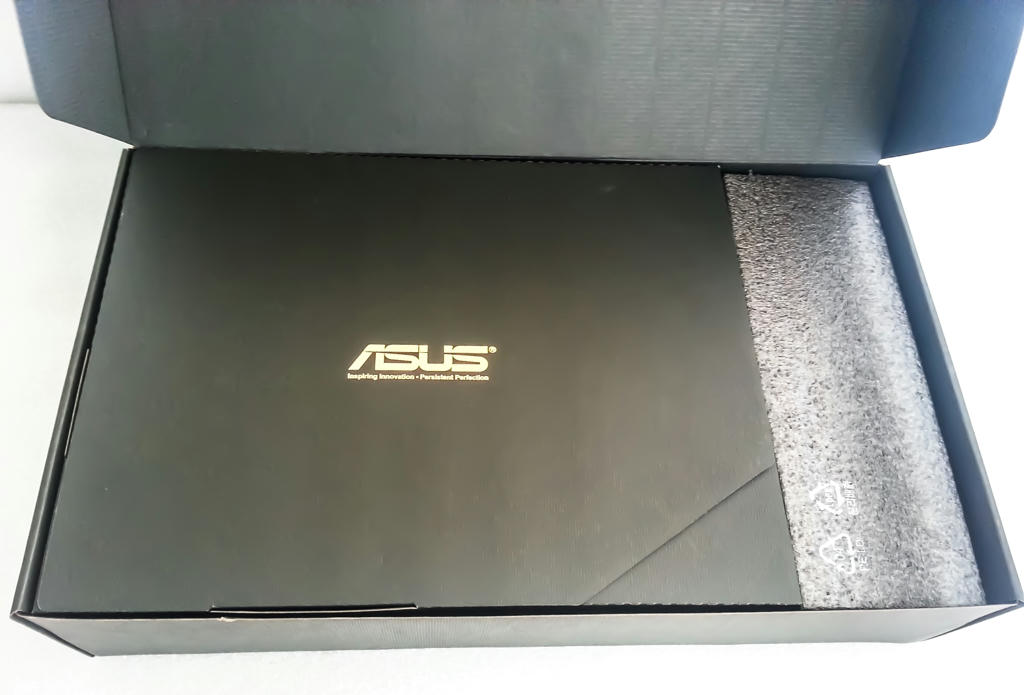 Accessory Item
:
1x Manual book
1x VGA Driver
1x DVI-I to D-sub converter
1x 4x2 pin Molex to 6pin VGA Power Cable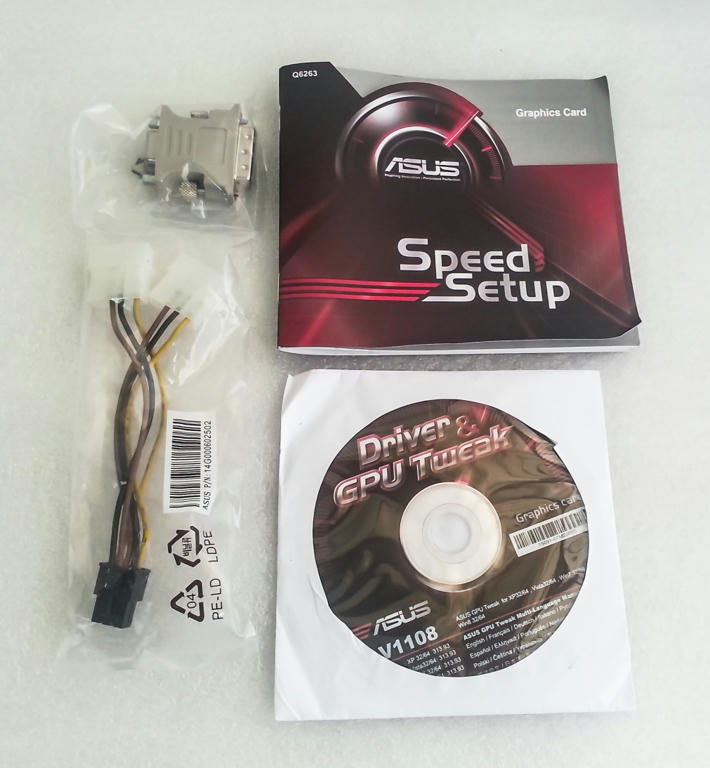 The Titan is sleeping inside the box with blanket cover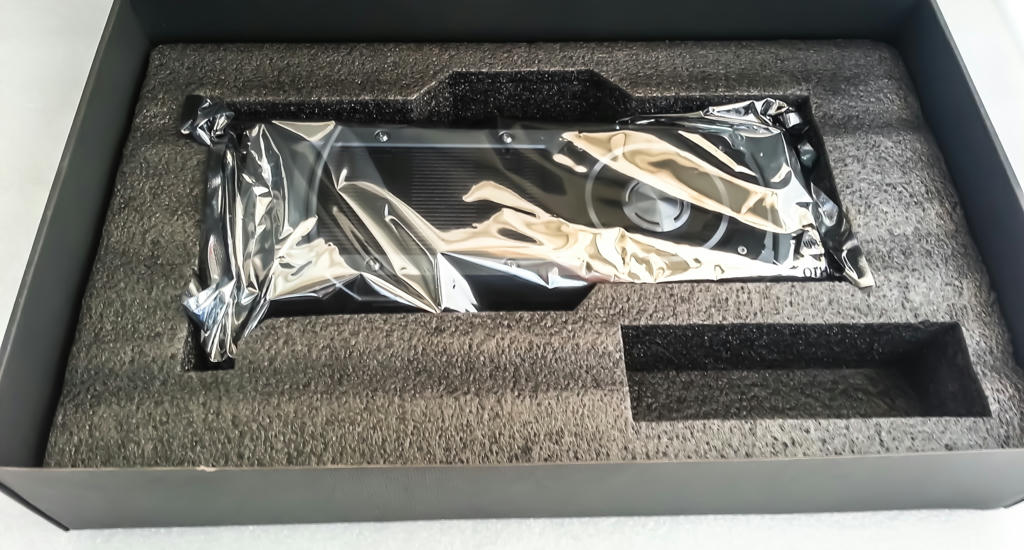 Just awake the Titan!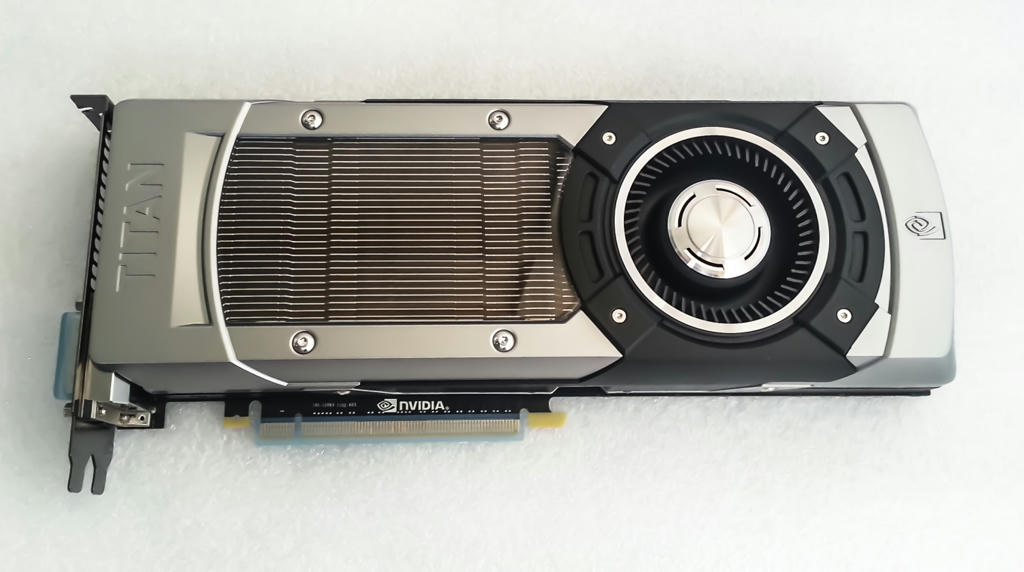 Very nice fan design look professional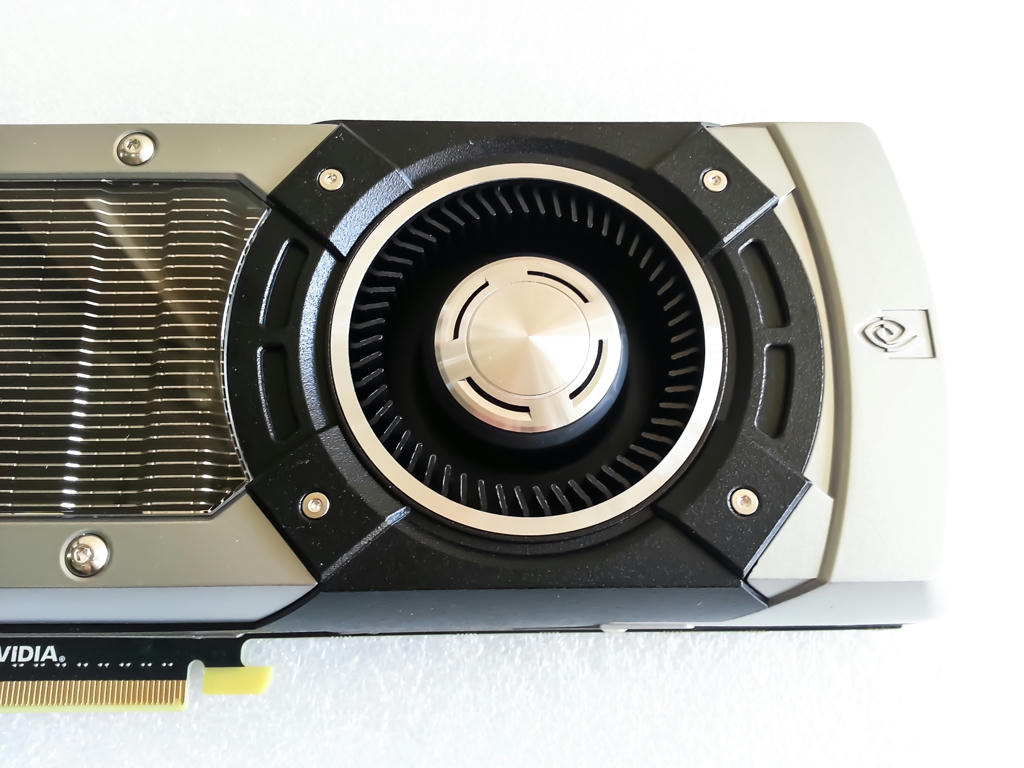 I/O Port
:
1 x dual-link DVI-I
1 x dual-link DVI-D
1 x HDMI
1 x DisplayPort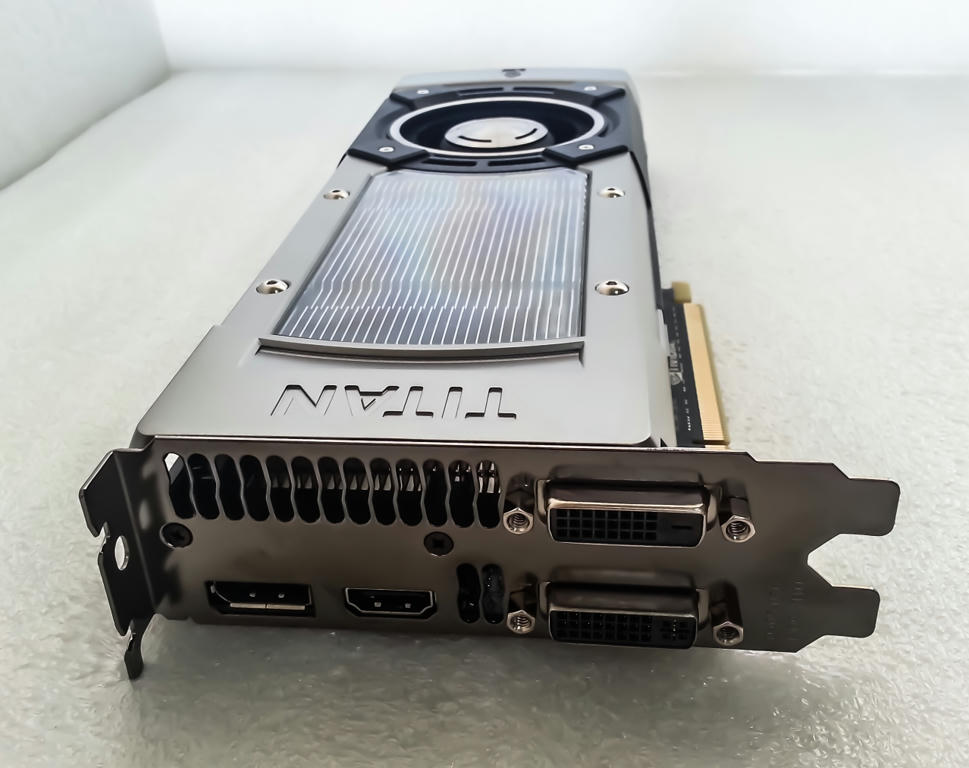 Side view of Titan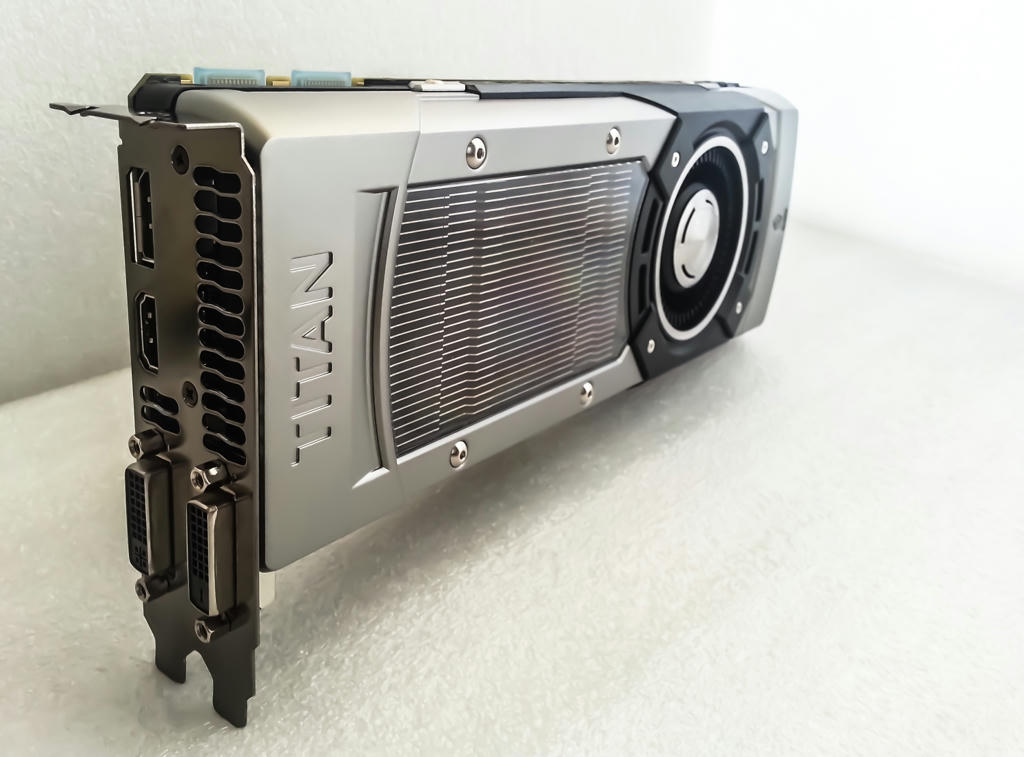 Two SLI link: allow you to run 3 card in SLI mode!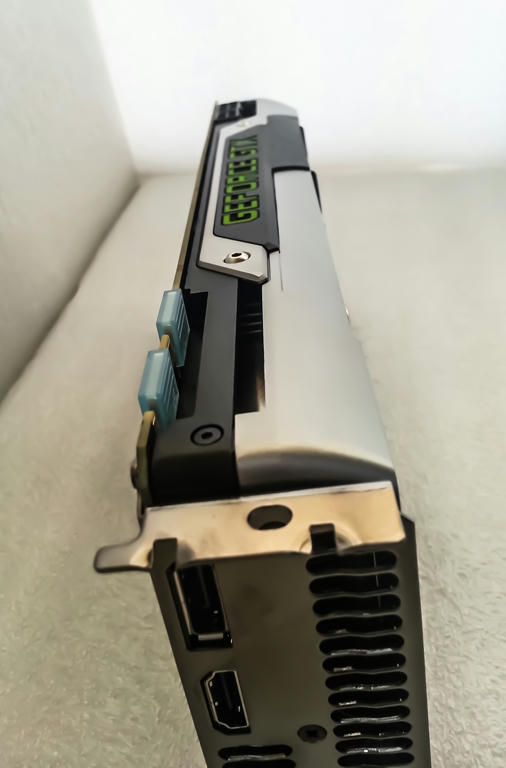 Green color word GEFORCE GTX

Side view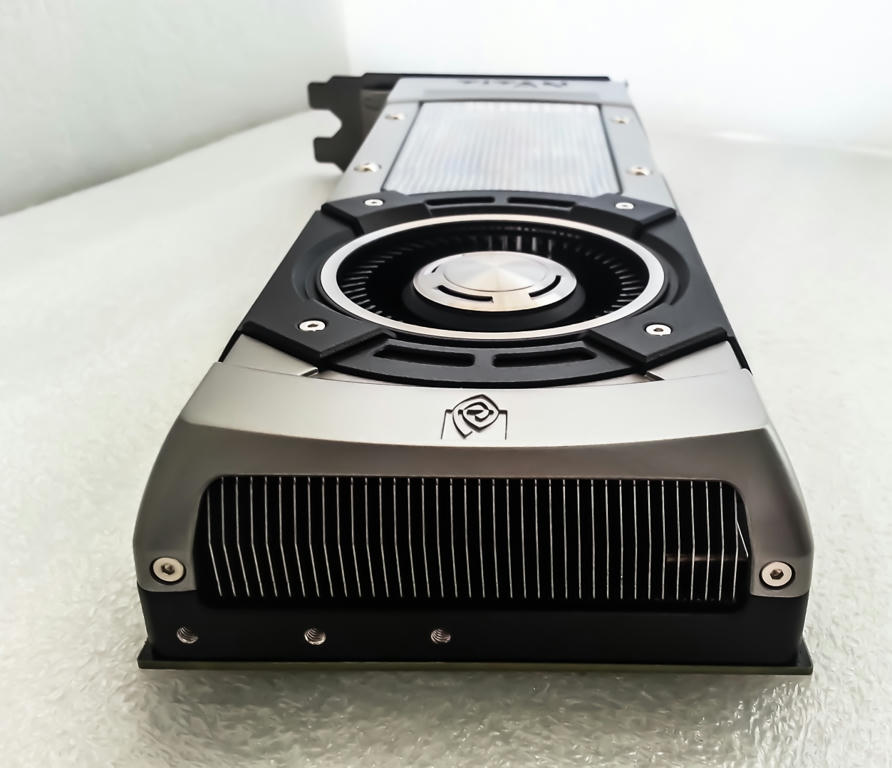 The card require 8pin and 6pin power from PSU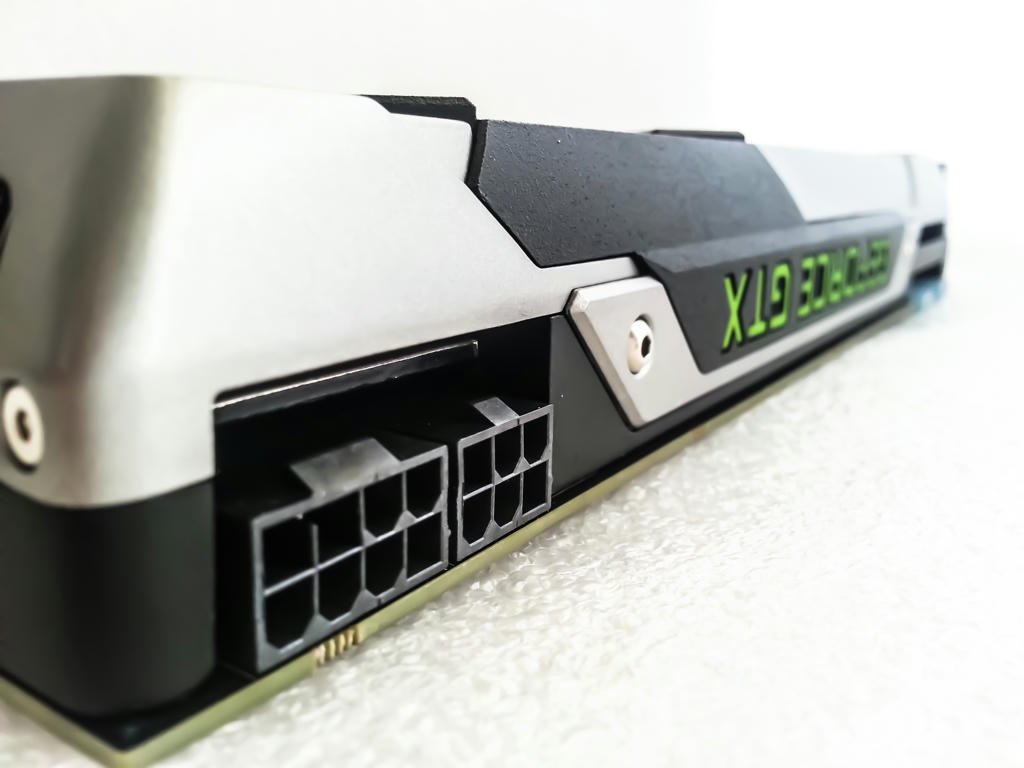 Asus Titan used Samsung GDDR5 part number K4G20325FD-FC03 "246" as GPU Video Memory that are specified to run at Clock speeds on the installed GDDR5 memory are 1502MHz (6008MHz Effective), which provide 288.4Gb/s Bandwidth and Bus Width 384bits.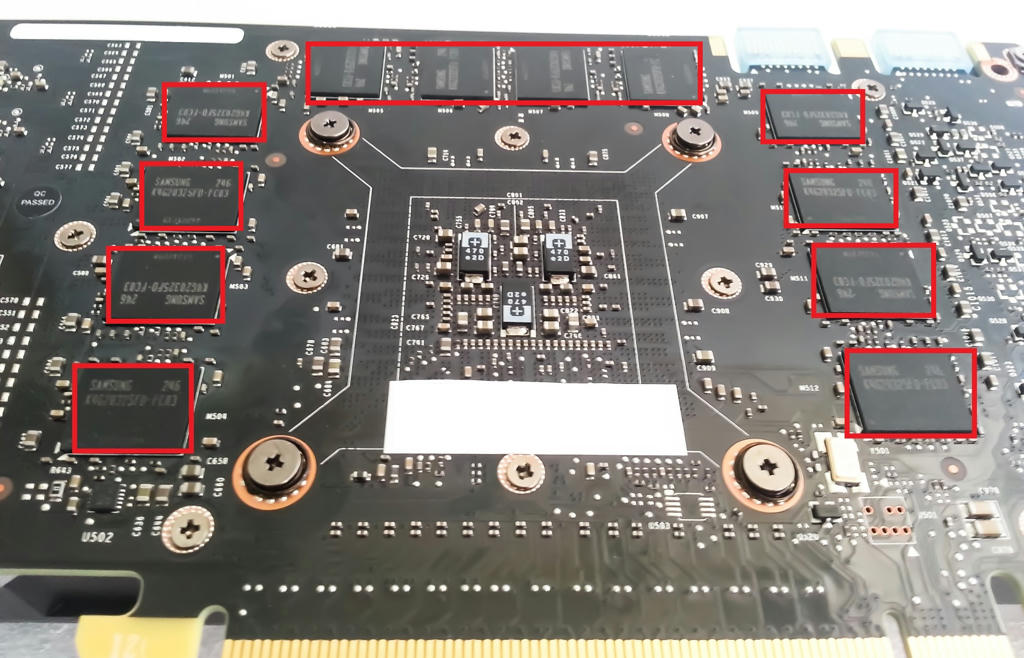 Removed Heat-sink from the PCB Card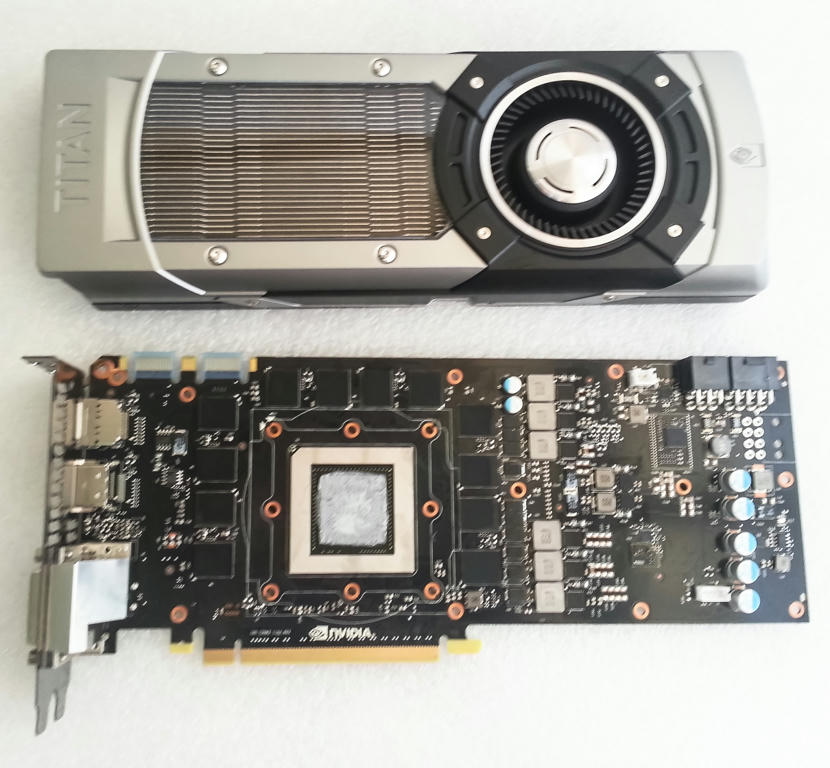 Back view of the heat-sink
Titan used Vapor Chamber thermal solution uses huge fin stack to transport heat away from the GPU to a large heatsink, where the fans take care of removing it from the card.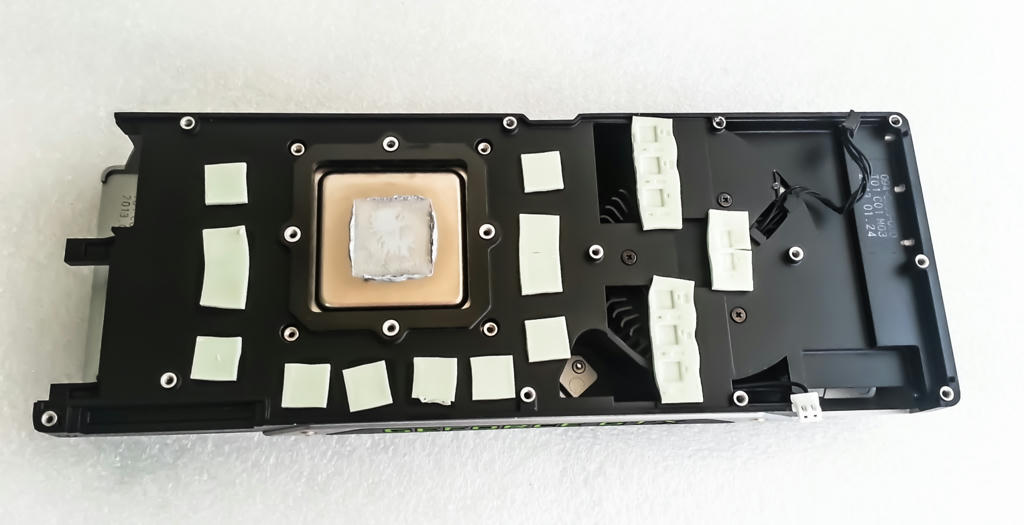 Side view of the heat sink on the I/O side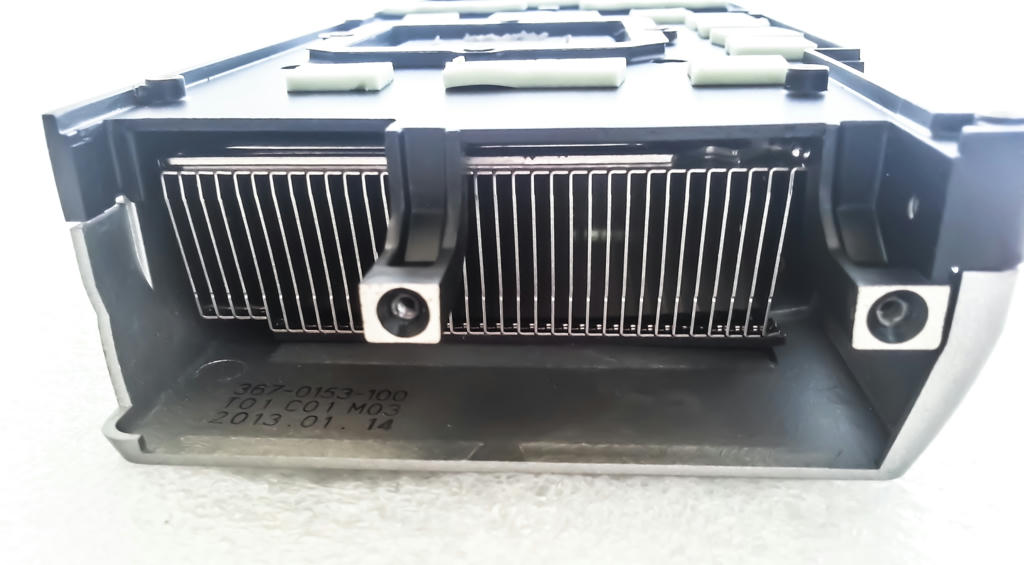 Nvidia Titan GPU Core GK110-400-A1, GK110 have 7.1 billion transistors number of its core area.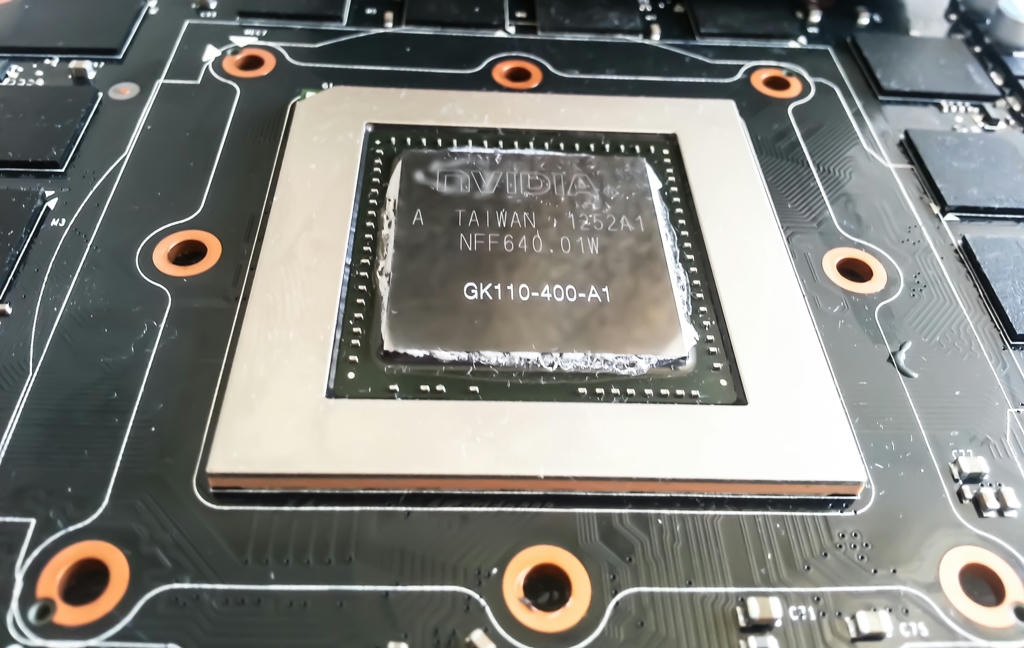 Side view of the card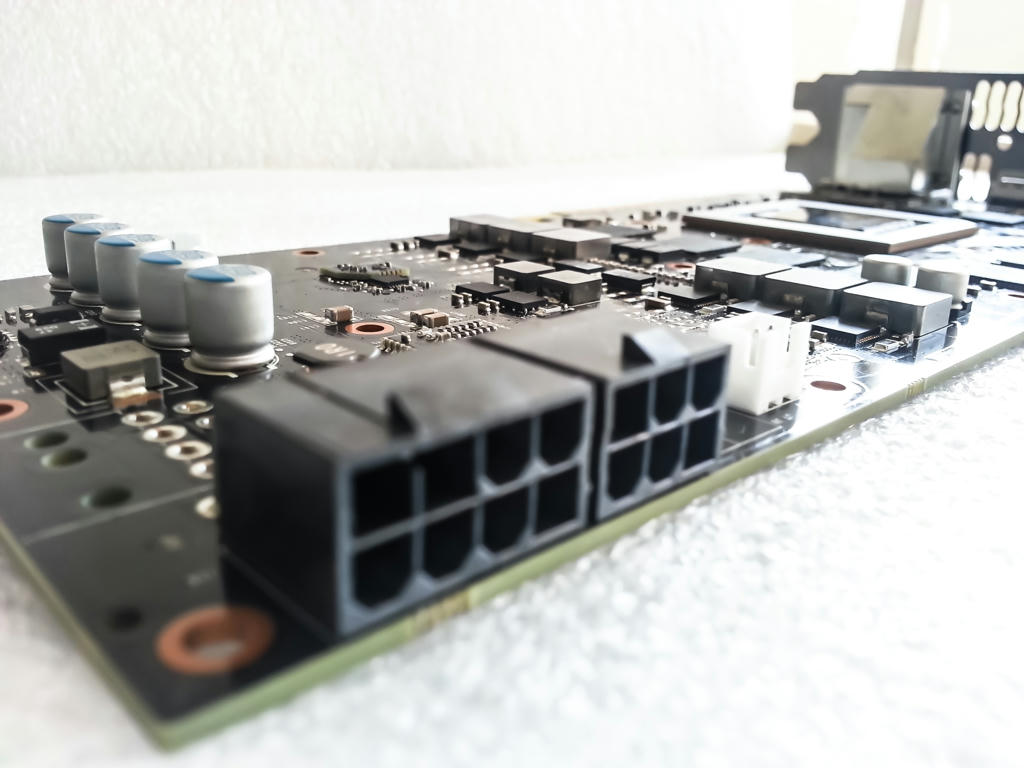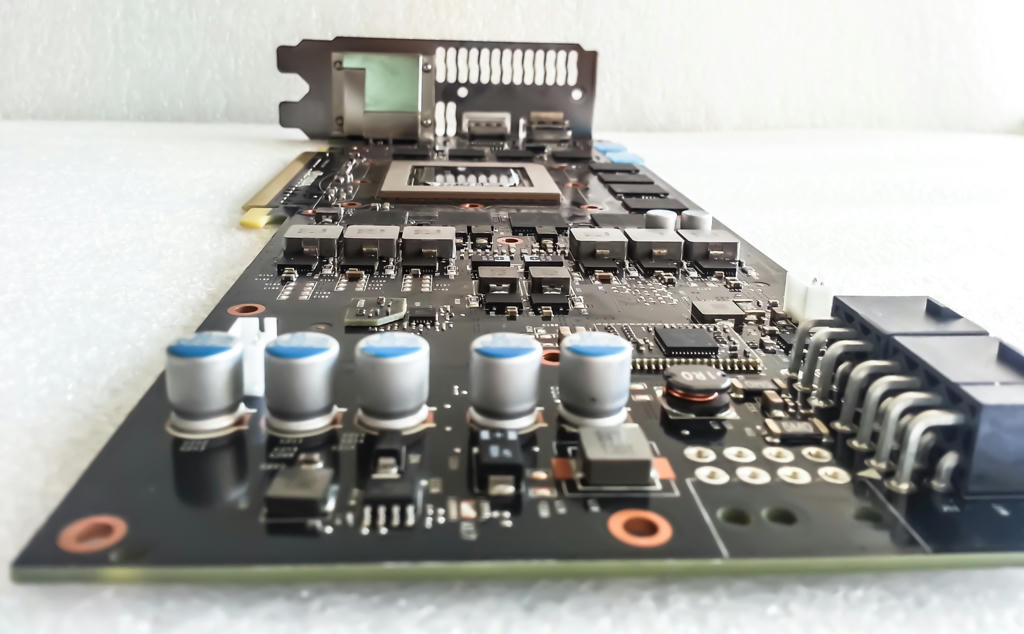 Samsung GDDR5 K4G20325FD-FC03
The GPU Memory total used twenty four 2 Gbit GDDR5 memory chips, twelve on each side of the PCB.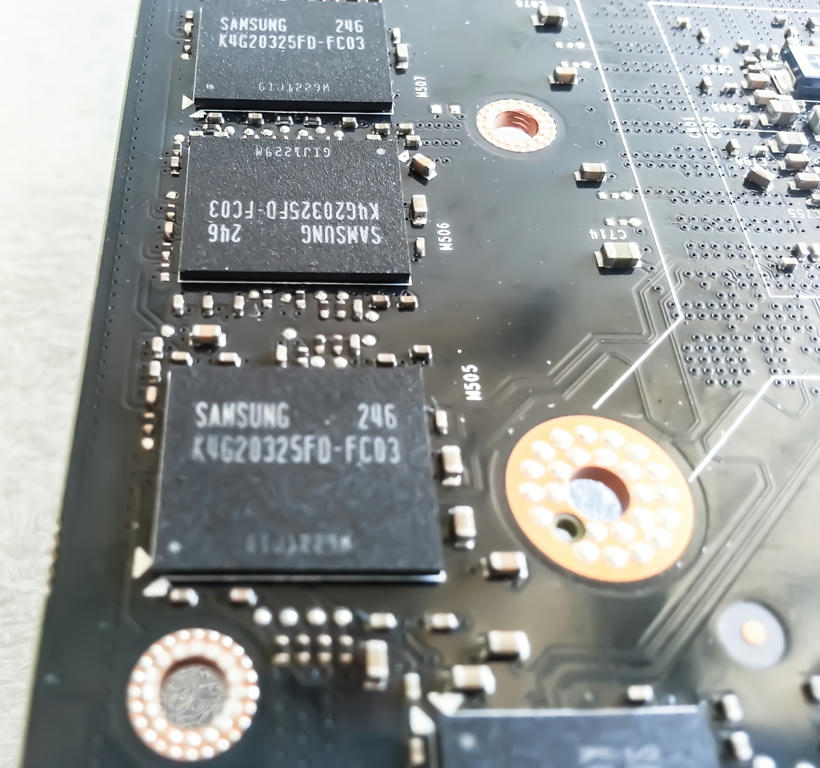 Font view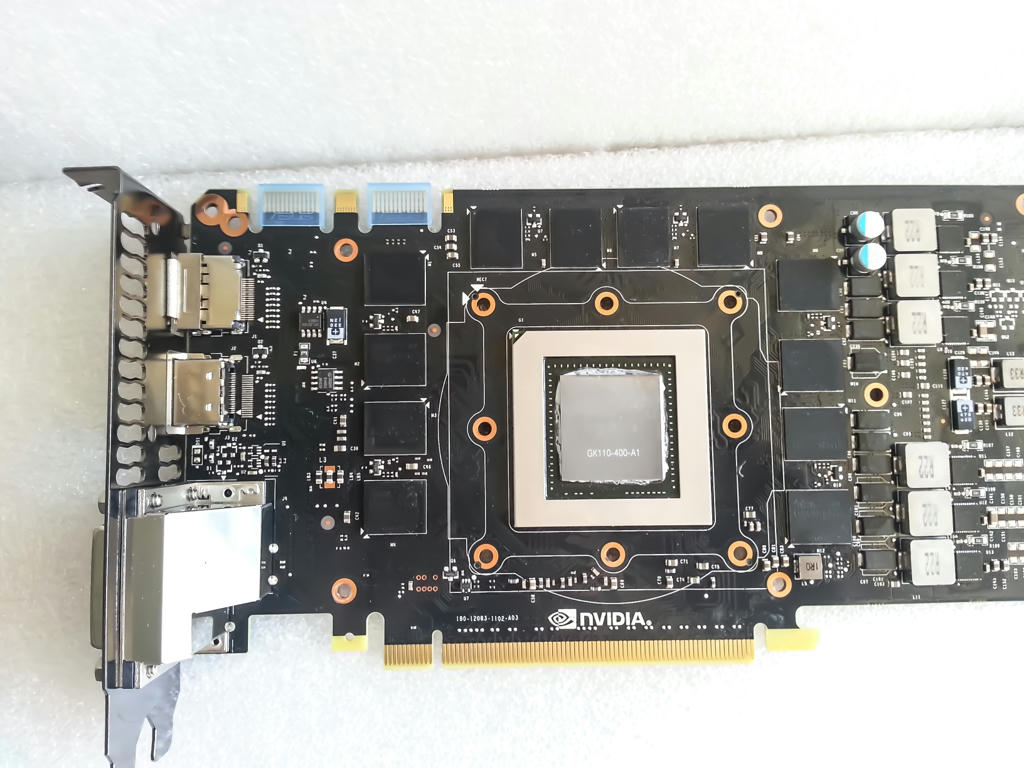 A ON Semiconductor NCP4206 PWM is an integrated power control IC combines a highly efficient, multi-phase, synchronous buck switching regulator controller with an I2C interface,
which enables digital programming of key system parameters.
NCP4206 is an Digital PWN which control 6+2phase is used as control voltage and monitoring.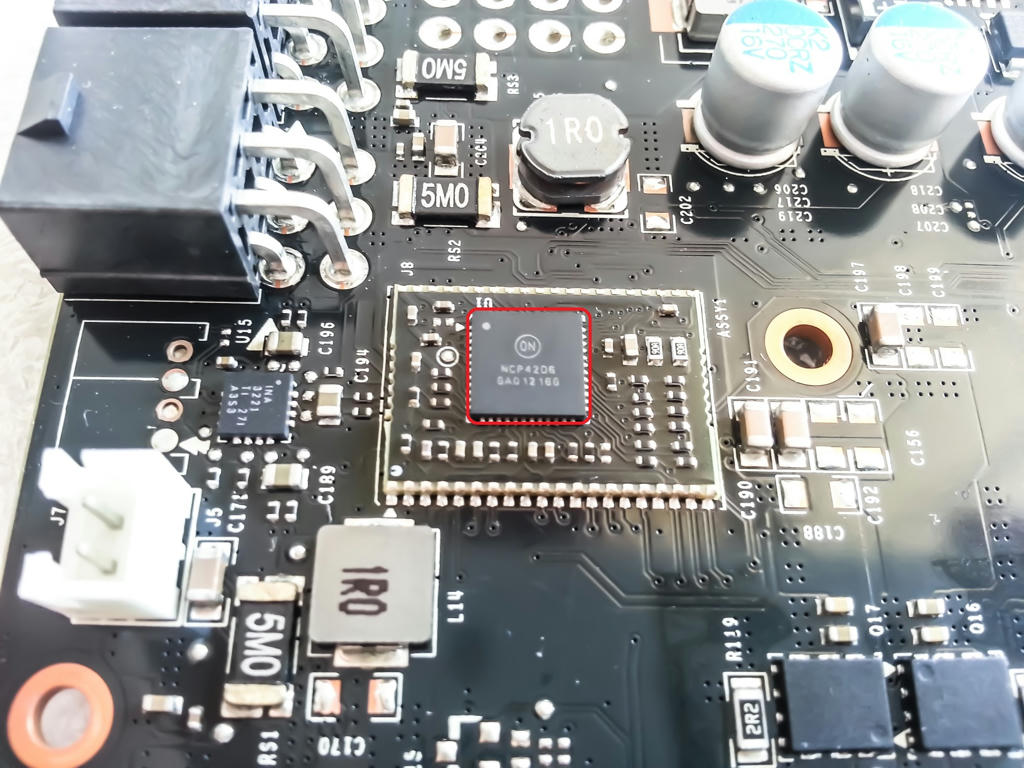 Orange box
- Provide GTX Titan LED light
Red box
- provide electric to spin and control the fan spin.
Blue box
- 2 power phase for Video memory
White Box
- 6 power phase for GPU core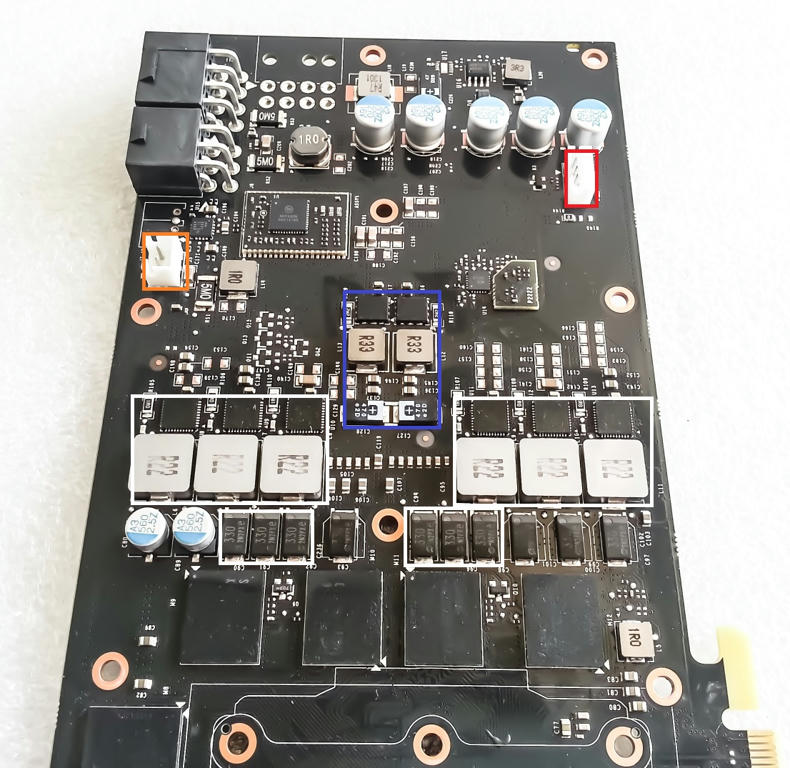 Green Box
- The DrMosfet FDMF6823A integrates a driver IC, two mosfet each is high-voltage MOS, and low-voltage MOS.
The DrMOS can provide up to 60A current, and more than 93% conversion rate.
Pink Box
- A ON Semiconductor 4901NF mosfet 30v Asymmetrical Dual N- Channel